Please fill out the form below to book this suite for Monday, December 11 through Monday, December 18, 2023 or call us at 1-800-650-8199.
Help Us Find a Screaming Deal For You! Please complete the request form on the left to receive unpublished rates. We'll get back to you with availability and a secure booking link!
Description
3BR Penthouse
Take the risk that this penthouse will spoil you for life! There are only two of these in the entire resort and both have individual elevators that whisk you from the pool deck to the penthouse front door. It doesn't get any better than that...until you enter this lavish palace. Vaulted ceilings, expansive balconies front and back, with one set of balconies facing the ocean and "Lands End" where the iconic Arch resides, plus another balcony on the back side with spectacular views of the city and mountains surrounding Cabo. Each bedroom has a private full bath and the main living area includes a Queen Murphy bed smartly hidden in a wall cabinet with another full bath off the living room. The incredible master suite has a corner wall of sliding glass that opens to another balcony with private hot tub. A full kitchen and dining area provide all the conveniences of a luxury home. Once you've experienced this level of luxury at Villa Del Arco you will never want to leave. 
Floorplan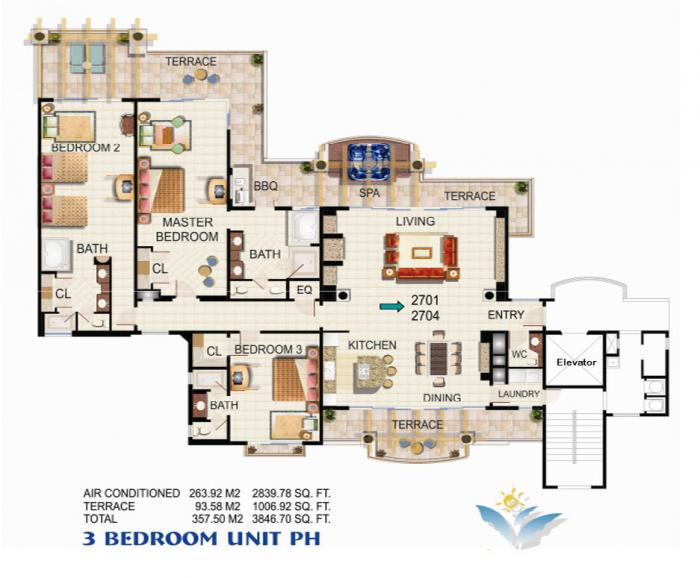 Testimonials
Thanks for taking the time to come to La Gringa marina to meet us before our sunset cruise! We had a wonderful time in Cabo with our family. The penthouse suite at Villa Del Arco was beautiful. We had our New Years Eve dinner there, steaks on the grill and could see the fireworks from our room. It was great to have a hot tub right there. We ate most of our lunches at the Buccaneer and went into town for dinner. Your recommendations were helpful. The kids enjoyed the kayaks and jet skis. We appreciate all your help in arranging transfers and the sunset cruise. It was a very enjoyable trip for our family. Hope to see you again sometime.
Nancy S. - Penn.
Wanted to get back to you and let you know we had a great trip and the rooms were tremendous! We all really enjoyed the penthouse - it was over the top! Thanks again!
Jeff B. - San Mateo, CA