Please fill out the form below to book this suite for Monday, December 11 through Monday, December 18, 2023 or call us at 1-800-650-8199.
Help Us Find a Screaming Deal For You! Please complete the request form on the left to receive unpublished rates. We'll get back to you with availability and a secure booking link!
Description
Deluxe Studio Suite
Your Deluxe Studio features two queen-sized beds or one king-size bed, and your over-sized bathroom provides a tub and shower accented with Mexican ceramics. Private balconies offer views of the setting sun. A kitchenette and spacious living space make this cozy accommodation the ideal retreat. You can also use the Deluxe Studio as an adjoining suite to a one bedroom. The luxurious and spacious 468 sq ft Deluxe Studio also has a terrace of 78 sq ft, for a maximum occupancy of two adults and 2 kids or three adults.
Featuring:
-Two queen-size beds or one king-size bed 
-Bathroom, with Mexican Ceramic accessories and a tub and shower 
-Kitchenette with coffee maker, electric stovetop, microwave, refrigerator and a toaster 
-A 29 inch TV with Satellite channels 
-Air conditioning 
-Telephone & Clock Radio 
-Iron with ironing board 
-Linens & towels 
-Hair dryer 
-Electronic Safe 
-Marble floors 
-Ceiling fans 
-Mini bar 
-Balcony with patio furniture and garden or ocean views 
-Wireless & High Speed Internet Access is available for a surcharge
Sleeps: 4
Square feet: 468
Photo Gallery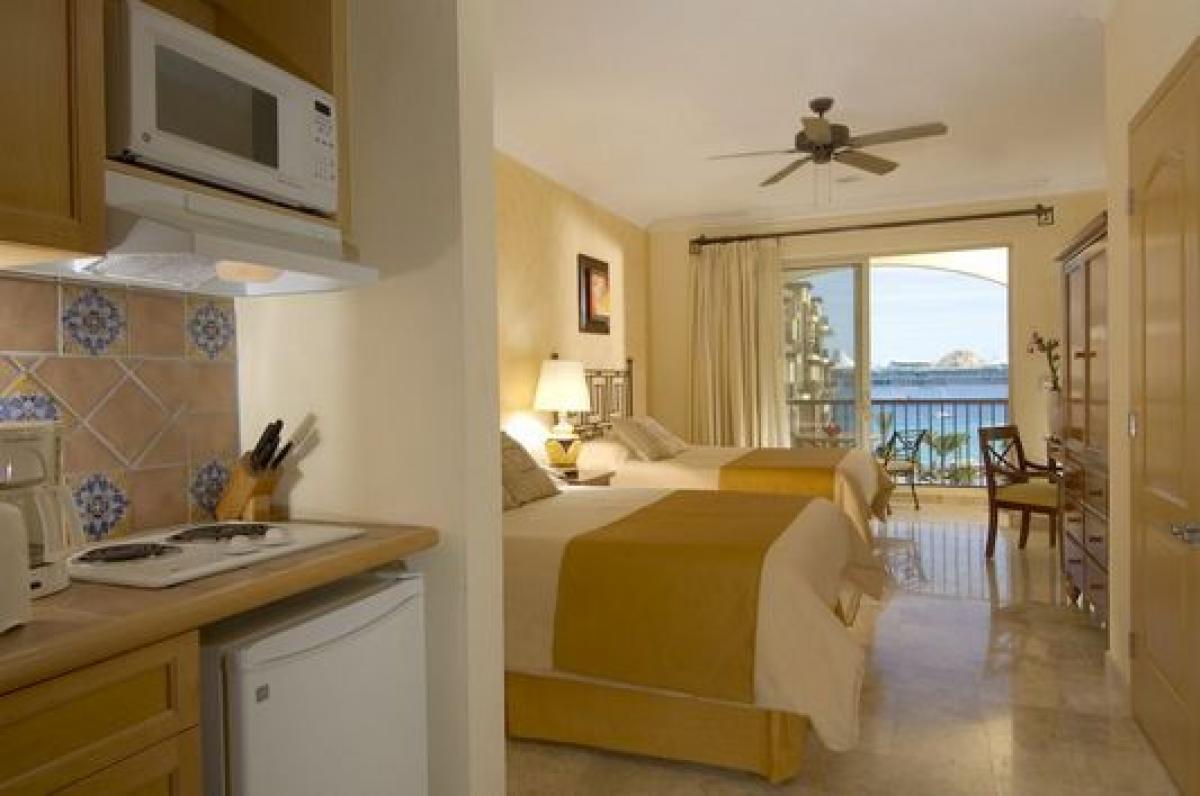 Floorplan

Testimonials
Hi Bob, the trip was great. The resort gave us a free upgrade to a suite with a full kitchen and separate master bedroom. And the back patio was huge and we had a hot tub in the backyard area. It was incredible. We never sat through any sales pitches. Just had a great time. Thanks for everything. Melynda
Melynda - Austin, TX
We had a wonderful stay at the Villa Del Arco. Our room had an amazing view of the pool and ocean. It was perfect for our family. We did 2 timeshares, one at Cabo Villas and one at the Del Arco. We saved a lot of money booking thru you and you gave us the best deal around. I am so glad I found your web site and will be calling you next year to book another week at the Del Arco if available.
Shawna S. - Scottsdale AZ
I wanted to say thank you for the special birthday wish (Cake, Wine & Bday cake made-up towels covered with confetti) when we arrived at the hotel. I assume you were behind that and had called ahead to let the staff know of my special occasion. I didn't realize until we got to the room (with King bed as requested) why the front desk staff were talking and surprised at how young I looked for 50 even though I had said nothing upon check-in about my birthday!! :) Btw, my brother who didn't book through you got a room with two queens on the 3rd level backside near where they are rebuilding the new restaurant at the hotel. Very noisy!! Thank you!! Sabrina and I will certainly use your services again on our next trip to Cabo. All the best, Tom
Tom - Semi Valley
Thank you for the great price on our all inclusive stay at Villa Del Arco. We did do a tour and purchased too. We did use your travel guide for advice but didn't eat outside of the resort this time.
Mary W. - Surprise, AZ
We had a great time. Meeting up with 12 of our far-flung friends was a real treat. The price was very reasonable for the quality of room and food we enjoyed there. The social scene around the pool was lots of fun, and is probably the biggest reason we would consider coming back to Villa Del Arco.
Dan - Ohio